Digital platform launched for Indian MSME exporters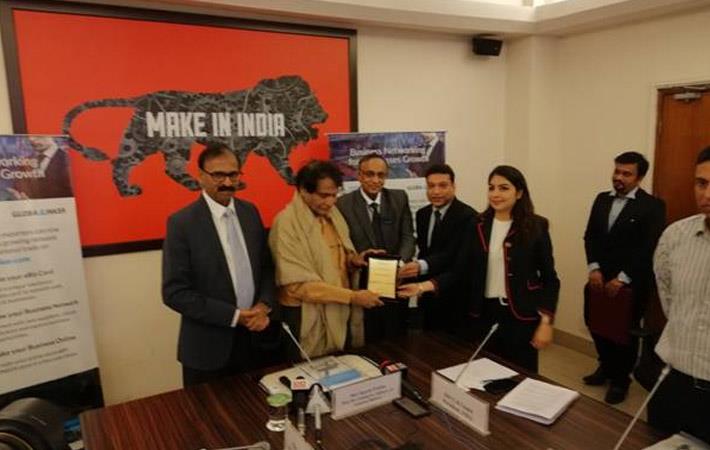 Commerce and industry minister Suresh Prabhu (2nd from left) at the launch of FIEO GlobalLinker in New Delhi. Courtesy: PIB/ministry of commerce and industry
A digital platform for exporters in the micro, small and medium enterprises (MSME) industry has been launched by Indian commerce and industry minister Suresh Prabhu. The interesting idea for such a platform was given by the Federation of Indian Export Organisations (FIEO). The FIEO GlobalLinker will help MSME exporters to digitise their businesses.
"This initiative will help in expanding India's multi-focused export strategy and also aid in connecting art and artisans to the market," said Prabhu while launching the platform.
The minister informed that at least 300 Geographical Indications will be registered very soon, which will give a major boost to exports.
FIEO GlobalLinker is setup with a view to make the business growth of SMEs simpler, more profitable and enjoyable. It is a growing global network currently comprising over 140,000 SME firms, who are seeking business collaboration and growth opportunities through the use of their electronic business card and digital profiles created on the platform.
FIEO GlobalLinker is available free of cost and it offers exporters a range of features and benefits. In terms of business opportunities, exporters will be able to find clients, suppliers and advisors using the search and review facilities. They will also be able to create a free e-commerce store for direct sales and improved chain management.
Exporters can gain up-to-date business knowledge through business articles, industry news and common interest groups. The platform also provides services like company intranet, integrating e-mail, and a business calendar, which improve efficiencies.
Further, the platform would also offer FIEO's services like application for new registration cum membership certificate (RCMC), endorsement or renewal, participation in FIEO's promotional programmes and alerts. (RKS)
--CopyRights: DIRTWAVE BLOG » Digital platform launched for Indian MSME exporters