Bring early resolution to issues of apparel industry: AEPC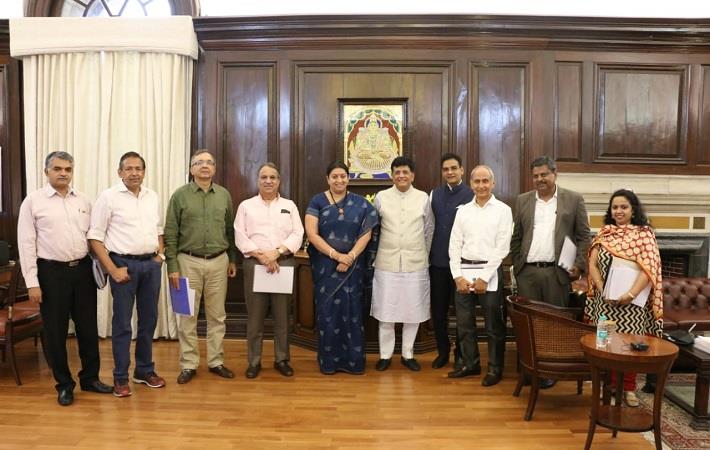 Textiles minister Smriti Irani (5th from left), Finance minister Piyush Goyal (5th from right) and others. Courtesy: AEPC
The Apparel Export Promotion Council (AEPC) has urged the Union finance and textile ministries to bring an early resolution of the issues facing the country's apparel industry. In view of a serious downslide in textile and apparel exports since the last eight months, AEPC raised concerns about huge blockages in GST refunds and slow disbursement in RoSL.
In a two-hour long meeting with finance minister Piyush Goyal and textiles minister Smriti Irani, and senior officials of both the ministries, AEPC representatives said the blocked GST refunds and slow disbursement of RoSL is resulting in blockages of working capital. As a result, the industry has not been able to book orders in the peak season, and is losing out to its competitors, in a big way.
"AEPC expresses gratitude for the speedy response from our minister of textiles in presenting critical industry issues along with senior representatives of industry to the finance minister and his team at North Block. For this important meeting, the industry came together—from apparel, madeups and textiles—to present a unified perspective that looked at the range of issues, including making India competitive in exports, expanding growth, and employment," said AEPC chairman HKL Magu.
"Industry apprised finance minister about the crisis faced across industry—in embedded and inverted taxes not being considered for refund as well as the huge delays in receiving GST/RoSL claims. Since over 90 per cent of apparel manufacturers are in the MSME sector with limited financial capability, this has created crippling pressure," Magu said.
"Finance Minister has instructed his team to urgently identify Central and state embedded taxes and work out a reimbursement mechanism. Also, ministry will expedite GST and RoSL refunds in a time bound manner. Finance minister assured all possible support from his ministry to enable exports growth and creation of jobs by the employment intensive apparel, madeups and textile industry. Industry has also assured that with our competitive position restored, we would be able to regain lost market share, further consolidate these gains and create gainful employment in shortest possible time," he added.
Theindustry has witnessed a reduction in the drawback and RoSL benefits by over five per cent of FoB compared to the pre-GST period. This, coupled with the disadvantage of around 10 per cent faced by the industry vis-a-vis its competitors in the major markets like EU, due to lack of preferential access, had led to India losing out to Bangladesh and Vietnam in a big way, according to AEPC.
"India's apparel industry is today at $17 billion, but the industry is optimistic of recording a 20 per cent growth in exports by next year, if the level playing field is offered along with facilitation of faster GST and RoSL refunds. We are also confident of a pickup in investments and jobs, if the industry is offered some long-term employment-linked incentives," AEPC said in a statement. (RKS)
--CopyRights: DIRTWAVE BLOG » Bring early resolution to issues of apparel industry: AEPC