Retailers adopting IoT strategies to monitor goods: Report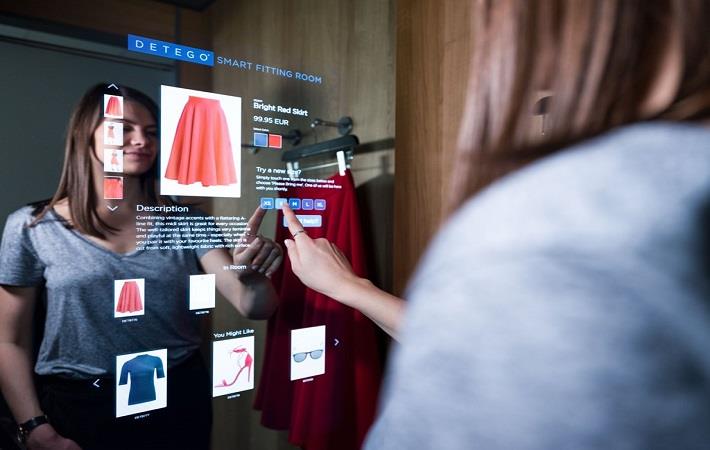 Courtesy: Detego
Retailers are adopting popular IoT strategies to more accurately monitor the movement of goods and better understand consumer behaviour, according to a recent report. The strategies include increasing use of RFID tags, digital assistants or chatbots to offer assistance on smartphones, and wearable technologies for up-to-the-minute stock information.
Detego, a UK retail software vendor which has digitally connected nearly two billion items of clothing and footwear, has released a report detailing the IoT strategies adopted by retailers. Many of these latest technologies – such as automated self checkouts, or Detego's smart fitting rooms that utilise RFID sensors and interactive screens – are aimed at giving consumers greater ease-of-use and self-service options. They improve the overall shopping experience particularly in stores, forging closer ties to some of the more successful techniques spearheaded by online retail such as personalised product recommendations; article availability checks; links to social media and product reviews; or omni-channel services like click and collect.
Connected technology gives real-world objects like merchandise a digital presence that can be closely monitored and analysed. In order to integrate the customer into this picture, there are numerous technologies available: from simple footfall counters to camera-based systems, WiFi or Bluetooth tracking. The main objective is to get more insights on customers and their behaviour to align customer service, adjust the product range and ultimately increase revenues, stated Detego in a press release.
Thanks to retailers keeping track of inventory and consumer preferences much more accurately using IoT and AI self-learning systems, fewer markdowns and lost sales will have a positive impact on the bottom line. IoT sensor technology (for instance, using RFID ceiling readers) allows retailers to test product placements in stores and see which articles get selected or tried-on most. Retailers can even offer customers the role of being a designer, personal shopper or trend scout, as another means of engagement and getting consumers to share more information via social media channels.
"In today's digital age, customers have power over brands. This is a strong reason why retailers should consider bringing IoT into their stores," said Dr Michael Goller, CTO at Detego. "IoT technologies will mean shortened waiting times, better consumer engagement, higher sales conversions and more satisfied customers." (KD)

--CopyRights: DIRTWAVE BLOG » Retailers adopting IoT strategies to monitor goods: Report