Over 165 exhibitors attend Heimtextil & Ambiente India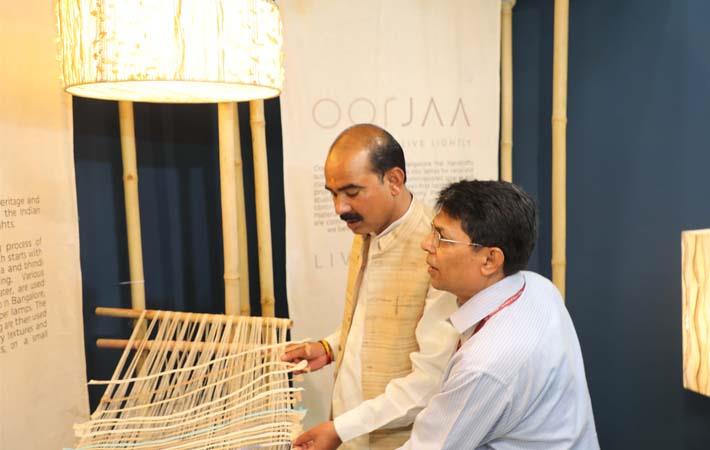 Minister of state for textile Ajay Tamta at Heimtextil & Ambiente India; Courtesy: Messe Frankfurt
More than 165 exhibitors from India, China, Nepal, Switzerland and Thailand had participated in India's leading exhibitions for home fashion Heimtextil and Ambiente India. As the exhibition unfolded, there were a series of the highlights that caught the eye of architects, interior designers, retailers, home stylists and design experts alike.
The fifth edition of Heimtextil India and Ambeinte India, inaugurated by Ajay Tamta, state minister of textiles, has clearly carved a niche among its trusted buyers and brands from design-progressive industry. From various experience zones to panel discussions on luxury living, Heimtextil India and Ambiente India 2018 have become more than just trade exhibitions, to an experience that fill the participants with insightful business knowledge, current and future trends of home fashion craft, and innovative solutions in the interior décor and textile sectors, organiser Messe Frankfurt said in a press release.
"It's an honour for Indian handlooms and textiles to be presented at the 5th edition of Heimtextil India & Ambiente India here and I'd like to congratulate Messe Frankfurt for this initiative. India has been a part of this global event since the past editions and I also got a chance to attend it in Germany. It has been creating job opportunities for small scale handloom & textile artists. This yearly event also gives a push to Indian economy – both for handlooms and handicrafts. I've been told that many national award winners and veterans took part in this event and it is great to see the industry coming together for this show," said Tamta.
"Every edition of the co-located show has successfully managed to curate exclusive programmes for the benefit of its buyers and exhibitors. Along with a host of new displays, zones and insightful sessions, this edition has a specially designed pavilion by Cohands that will display India's legacy in art and design by highly acclaimed national awardees. From the international perspective we are glad to also announce our association with the Office of Small and Medium Enterprises Promotion and Federation of Thai Industries and also welcome industry associations from Greece and Korea along with international designers from France and Finland. We are confident that this edition will bring in new associations with business being the prime focus," Raj Manek, executive director and board member, Messe Frankfurt Asia Holding Ltd, said.
The co-located shows which opened to a galore of exquisitely crafted designs include top names in the industry such as D'décor, Aditya Birla, R. R International and Manorma as well as several start-ups displaying unique designs and artefacts in dining, living, giving and the home furnishing segments.
From various experience zones to panel discussions on luxury living, Heimtextil India and Ambiente India 2018 have become more than just trade exhibitions, to an experience that fill the participants with insightful business knowledge, current and future trends of home fashion craft, and innovative solutions in the interior décor and textile sectors. (RR)
--CopyRights: DIRTWAVE BLOG » Over 165 exhibitors attend Heimtextil & Ambiente India