Tablez joins hands with Yoyoso to enter India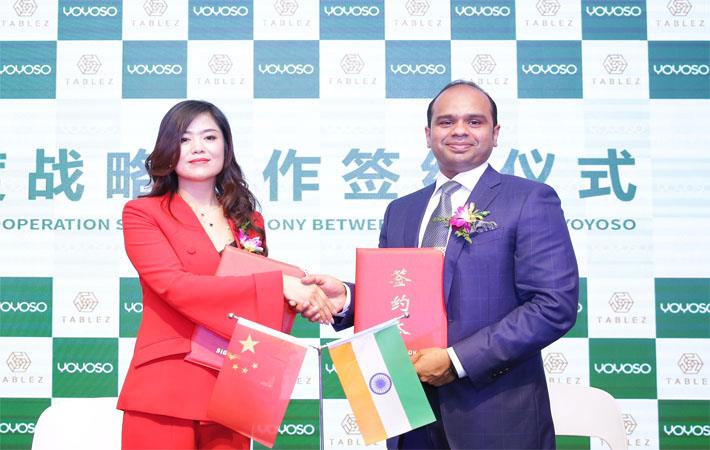 Tablez MD Adeeb Ahamed and Yoyoso brand founder Ma Huan during the agreement signing ceremony Yiwu, China./Courtesy: AETOSWire
Tablez, the organised retail arm of LuLu Group, has become partners with Chinese lifestyle brand Yoyoso to bring its stores to India. The two have signed a strategic cooperation in this connection. Tablez plans to open Yoyoso stores across multiple locations in India over the next five years, with 30 stores to be launched in key cities in the first phase.
Adeeb Ahamed, MD, Tablez inked the agreement with Ma Huan, Yoyoso Brand founder and company president, in Yiwu, China.
Headquartered in Yiwu, Yoyoso offers affordable, fashionable and trendy daily life products that have great functionality, quality, design, and value. There are more than 5,000 items in the Yoyoso product line, with new ones added every month. With more than a decade of experience in retail operations the fashionable leisure department store chain has more than 1,000 stores worldwide.
Ahamed said: "We are excited to join hands with Yoyoso to bring the world-famous fast-fashion leisure department store brand to India. Yoyoso products are simple, natural, high-quality and have great value. We are sure that it will strike a chord with the discerning Indian consumers."
The parent company of Tablez, LuLu Group International had in June announced that it will increase its yearly exports for its retail stores from China which stands currently at US$ 220 million to US$ 300 million. LuLu Group International is also looking at setting up Hypermarkets in Yiwu and other major cities in China at an investment of US$ 200 million.
Ma Huan said: "Indian market is one of the most important part of global market. It's a great opportunity for both Yoyoso and Tablez. Through the mutual cooperation, we are confident that Yoyoso will bring plenty of surprises and happiness to new generation India." (SV)

--CopyRights: DIRTWAVE BLOG » Tablez joins hands with Yoyoso to enter India